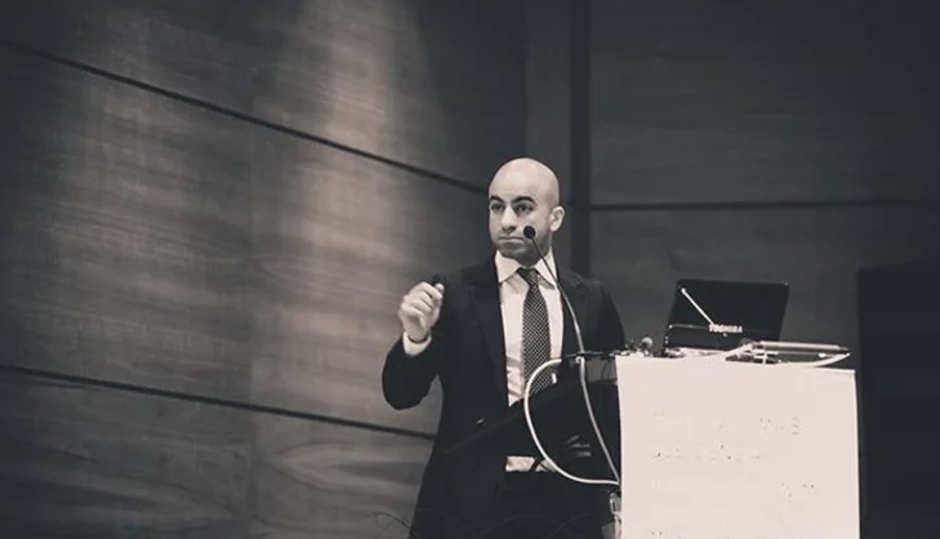 Meet Ahmed. Professor Ahmed to be precise.
Ahmed and I met when I became his Head of Sixth Form as he embarked on Year 13. He had already had one Head of Sixth Form laugh in his face at his declaration that he would become a doctor, thankfully not me! But his determination throughout has never wavered, even under enormous challenge and personal difficulties.
Ahmed was born in Belfast to Lebanese parents returning to Lebanon for his formative years. When he was 17, he left his family behind him in Lebanon and came back to England with his twin brother Mohammed. I have never come across a more determined, dedicated and articulate pair of young men. Little did I know at the time that throughout his year at school he worked nights stacking shelves in supermarkets whilst attending classes full-time and gaining top grades in his A levels!
Ahmed went on to achieve his dream of studying Medicine at Manchester University. In his third year, however, he woke up one morning to discover that his hometown in Lebanon was bombed and that hundreds of people were killed overnight. Ahmed subsequently developed a severe episode of psychological distress. Here he realised the lack of support and stigma from his own peers and medical professionals when one of their own suffers from mental health problems. He has always looked back with sadness at the way in which mental illness is treated very differently to physical illness and his life experiences continue to shape his values and worldview.
Never one to give up Ahmed recovered and returned to his studies culminating in achieving his MBChB and commencing his role as a doctor.
Along the way Ahmed has collected a significant number of awards and accolades as well as achieved a number of notable landmark moments in his career to date:
In 2013 Dr Hankir received the Royal College of Psychiatrists (RCPsych) Foundation Doctor of the Year Award (the RCPsych Awards mark the highest level of achievement in psychiatry in the UK).
The following year, Dr Hankir received a scholarship to matriculate into Harvard Medical School's Global Clinical Scholar's Research Training Programme and received the first prize for his research project.
After graduating from Harvard, Dr Hankir pioneered The Wounded Healer, an innovative anti-stigma programme that blends the power of the performing arts and storytelling with psychiatry. Dr Hankir took several years out of his training and delivered the Wounded Healer to over 75,000 people in 19 countries in five continents worldwide.
Dr Hankir has given Keynote Lectures alongside celebrities, Noble Prize Winners and Ted speakers. He has been interviewed by the BBC on many occasions (BBC Radio Leeds, BBC Radio London, BBC Look North, BBC World News, BBC Radio Ulster and BBC Sounds) and he has also been interviewed by The Guardian.
The Wounded Healer was adapted into a documentary by filmmakers at the University of London and has been screened in film festivals worldwide. He has co-edited two psychiatry textbooks and has authored 42 academic papers. In recognition of his research and scholarly achievements and his public engagement and education, Dr Hankir was appointed Professor of Academic Psychiatry at the Carrick Institute for Graduate Studies in Orlando, USA.
Dr Hankir also works as a Specialist Registrar in Psychiatry South London and Maudsley NHS Foundation Trust in the UK. He holds further academic posts as Senior Research Fellow at the Centre for Mental Health Research in association with Cambridge University and Academic Clinical Fellow in General Adult Psychiatry at King's College London which is a world powerhouse in mental health education and research.
Ahmed is passionate not only about mental health and psychiatry but promoting peaceful co-existence and understanding of one another's beliefs, cultures and behaviours. He works tirelessly to challenge mental health related stigma and Islamophobia.
Dr Hankir advised the New Zealand Government on the psychological consequences of the Christchurch mosque attacks and he has also advised the World Health Organisation. A prolific tweeter he has a large following of people who engage with him in his love of life.
Ahmed has continued to support me by speaking to prospective medical students, delivering his Wounded Healer presentation and leaving students of all backgrounds, faiths and cultures in awe of his determination to use his oratory power for the greater good of humanity.
IF AHMED CAN THEN YOU CAN!
You can find Ahmed on: